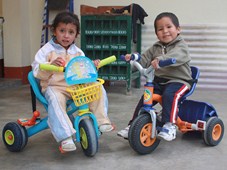 Children´s Home
The Children´s Home has been running since 2000. The main aim is to care for abandoned, abused of orphaned children up to 18 years of age, seeking family reintegration. All cases are referred by the courts and the public prosecution service of Ancash.

During their time in the home the children are provided with a family environment, food, clothing, education, medical attention and spiritual guidance. This enables them to become healthy adults, restored from the many physical and emotional wounds of their past.

We work to continually improve the individual care plan of every child by seeking the best for each one of them and providing ongoing training for the home´s care team.

For the young people who pass 18 years of age we provide a programme to support their transition to independent living and greater integration into society.